(Effective Services at Reasonable Rates)
FREE ADVICE ON PEST PROBLEMS
022 25510187 / 76669 13609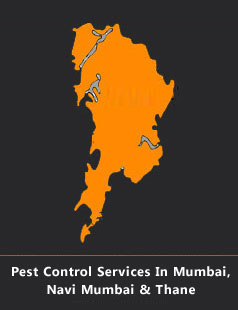 Termites (white ants) live in underground colonies and infest your premises by moving up through cracks between the plaster and the walls of your building. Termites can cause colossal damage to your furniture, documents, clothing, etc., since they feed on the cellulose contained in wood, paper and cloth.
They can be stopped from entering your premises only if a chemical barrier is created at the base of the walls of your premises.
The treatment is done by drilling approx. ½" diameter holes at intervals of 20" along the base of the walls. Chemical emulsion is poured into the holes which are then sealed with cement. This treatment creates a chemical barrier and stops termites from entering the premises.
Areas which have already been infested are treated by spraying termiticide.
Periodical checkups are carried out during the contract period. We undertake termite control contracts for individual flats, offices and also for entire buildings, we offer a 5year warranty when the entire building is treated. We also carry out pre construction anti termite treatment as per ISI specifications and offer a 10 year guarantee.