(Effective Services at Reasonable Rates)
FREE ADVICE ON PEST PROBLEMS
022 25510187 / 76669 13609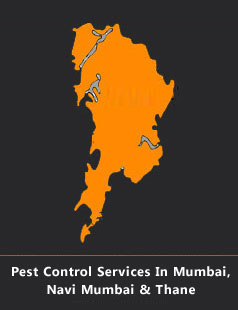 Ours is a company managed by professionals with over 30 years' experience. We have 4 offices - in Mumbai, Navi Mumbai, Thane and Borivali to cater to a wide section of the population. We offer a wide range of pest control services such as General Disinfestation, Termite Control, Rodent Control, Treatments for Bed Bugs, Treatment for Woodborers, Mosquito Control, etc. Apart from our long experience, we have also undergone training in CFTRI, A reputed institute for food technology. Our panel of advisors comprises experts who have specialised in entomology.
As a sign of acceptance of our quality of services, our client list comprises of many reputed companies and other organizations apart from numerous flats, offices and housing societies.

Some of the esteemed companies where we render our services are MRF Ltd., L & T Construction, Corporation Bank, Cafe Coffee day, Subway, Sbarro, Hitachi Ltd., MAERSK LTD., Sundaram Asset Management Co., Knight Frank (India), SIES school and colleges, SVT college of Home Science, Business Standard, Johnson Mathey Chemicals Ltd., Kaushalya Medical Hospital, etc.

We are an authorised pest control service provider and are a member of PMPWAM.